Play Now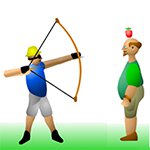 In Apple Shooter, grab your arrow and bow to prove how a good archer you are! You need a courageous friend who will put the delicious apple on the head to help you out. Luckily, you have a volunteer! But you should be careful while making your shot not to kill the only person brave enough to take the risk. Let's go to the shooting field and show the other that they were wrong!
Putting an apple on someone's head is a classic challenge to show how good you are at archery. But it is also so risky! One little miscoordination can cost your friend's life! You should adjust your strength and angle so well that you will be able to shoot the apple just in the center. Use your mouse and hold the left-click to determine the launch strength. You can adjust your shooting angle by swiping the mouse. As you pass the rounds, the distance will increase by 5 feet each time. If you miss your shot, you can continue with the same round, no problem! But if you ever shoot your friend, no matter which part it happens, head or body, you have to start the game from the beginning. We all put our faith in you and know you can do this! Good luck!
Don't forget to check our collection of online and free skill games to prove your other talents to everyone in this platform!
Developer
Wolf Games developed Apple Shooter.
Release Date
April 24, 2017
Features
2D colorful graphics
Various rounds to pass
Increasing distance
Entertaining and challenging gameplay
Controls
You can play this game with your mouse.