Play Now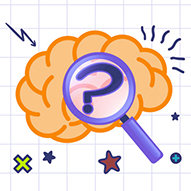 In Braindom, it is time to solve some tricky puzzles! You will be the master of the IQ games! Let's enter the entertaining world of Braindom! Are you ready to solve all these various puzzles? Have fun!
Braindom is the most played and popular puzzle game ever! You will solve all kinds of puzzles here in this game like tricky puzzles, mind games, brain tests, brainteasers, a word of trivia, quiz, riddle, and brain puzzles! Are you ready to solve and crush them all? Then let's jump into the game! You just need to click on the start button and to play it, you only need your mouse. Your objective in this game is to solve the puzzle at each tricky level and moving on to the next one. There are over 200 levels to pass! Each of the puzzles is unique, creative, and designed to push your thinking limit. ''Logic is the art of thinking and reasoning in strict accordance with the limitations and incapacities of the human misunderstanding.'' You should your logic to solve all puzzles, don't hesitate to try all the ways to solve a puzzle. The game will be getting harder as you proceed with it. you can find it simple and easy to solve in the beginning, but trust us, it is the best game ever when it comes to IQ games! Are you ready to push your limits? Have fun!
If you want to play more games from the same category, you can check out our collection of online puzzle games. Enjoy!
Developer
YAD.Com developed Braindom.
Release Date
November 27, 2020
Features
Addictive gameplay
Brain exercising
Endless levels to complete
Imaginative and cool gameplay
Controls
You can use your mouse to play this game.