Play Now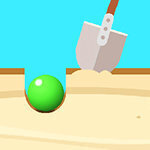 With Dig It, welcome to a fun skill game in which summer vibes and puzzle included mini levels coexist! Inspired by people who get bored with swimming all the time and choose to play with the sand for some fun, this game will challenge you to do the same! Are you ready to discover what is under the smooth sand and guide the ball to the hole under the ground?
No matter if you are home sitting on a couch or outside playing your phone, you will start to feel like you are next to the beach having some fun under the shining sun! The objective of this fun skill game is to dig the sand in a way that it can fall into the hole. To play, you only need your finger or mouse and your strategic thinking skills. Click on the play button to start the game from the main menu. When the game starts, drag your mouse to dig the send and open a way for the ball. Be careful about the obstacles, though! You may need some strategy to avoid the obstacles and pass the challenging levels. Collect as many diamonds as you can on the way. The collected diamonds determined the number of stars you get. You can unlock other skins for your ball to add more fun to the game. Good luck and have fun!
If you want more ground to dig as a challenge, then be sure to check Escape Out by clicking here!
Developer
BPTop developed this game.
Release Date
February 3, 2020
Features
3D colorful graphics
9 different balls that you can unlock
Endless digging adventure to complete
Entertaining and addictive gameplay
Controls
You can play this game with your finger or your mouse.