Play Now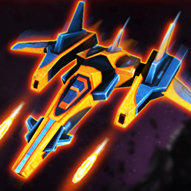 In Galactic Judge, it is your duty to bring justice to the universe. The galaxy is under the invasion of evil forces, and the future of the universe is in your hands. What you need to do to ensure the balance is getting on the spaceship and eliminate the threats. From big asteroids to spaceship units, you have a large scale of enemies to beat. The question is, do you have the courage to risk your life for this great mission?
In this fun shooting game, your objective is not throwing the judgments but throwing your super powerful fires to eliminate your enemies. When you start the game, you will see 4 features of your spaceship that you can upgrade, which are fire rate, armor, damage, and weapons. Just under the stats, you can see the levels to complete with the "choose mission" title. Check your rewards at the left bottom of the screen from the "achievements" button. Click on the "start" button to start the adventure. Destroy everything like lasers, spaceships, and asteroids coming on your way. Collect the stars falling after each shot. Various boosters to fill your lives and empower your weapon will be given as you eliminate the obstacles. The final mission is to beat the boss and pass to the following levels. Good luck!
If you have enough of space-themed action games and try a new game with another theme, check how awesome the game Awesome Tanks 2 is by clicking here.
Developer
kiz10 developed Galactic Judge.
Release Date
May 6, 2020
Features
10 missions to succeed
16 rewards to achieve
4 stats to upgrade
3D colorful graphics
Controls
You can play this game with your mouse.