Play Now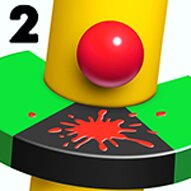 Helix Jump Advanced is here to introduce you to a new kind of annoyance with a pint of mastery of balance! You are a bouncy little thing trying to get to the bottom of a tower. And you can't keep yourself from splashing your colors around while doing so! Let's jump into this simple but tricky world!
Probably the most confusing part is controlling not the ball itself but the tower. That's right; the ball keeps bouncing all the same while you tilt the whole tower right and left, trying to make it fall on a safe spot. There is the main color of every level, covering most of the tower. This is where you are safe. You can stand on these spots for however long you want. On the other hand, some parts of the tower are painted in another color, and touching these areas means instant failure. There is one condition though; falling for more than three levels gives you a physical force that grants you the ability to break the level you land on, including the forbidden areas. You can check your level percentages from the bar above. Get the arrow-shaped boosts and skip levels destroying everything on your way. Good luck; you will need it among these increasingly challenging levels of bouncing.
If you like this colorful hypercasual game, you can check out Flappy Dunk and test your patience further.
Developer
Hit Games developed Helix Jump Advanced.
Release Date
March 5, 2019
Features
Simple controls
Increasing difficulty at every level
Addictive gameplay
Bright and colorful theme
Controls
Use your mouse to hold and move the tower.