Play Now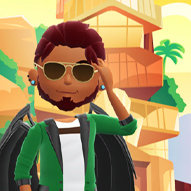 Hotel Hideaway opens its door to welcome you into the family! You can be a hundred percent sure that you'll enjoy your stay here and it'll be like nothing like you've ever experienced before. Are you ready to dive into a whole new world?
This place is just what the doctor ordered! There are so many possibilities, so little time... If you want to spend your holiday in a fantastic place, this is the best place to be. So, jump on board and join in on the fun. The first thing we should is to choose a character and give a name to it. That's it. Welcome to the hotel! Now, it's time for some fun. There are a lot of things to do here so it might be good to start with the daily tasks first. You can see them in the top left corner of the screen. If you want to, you can hang out with other players and chat with them. You can play mini-games to collect coins and get new clothes. There are many costumes that will make you the center of attention. You can also customize your room and buy decorations. You can sit and chillax by the waterfall or show off your dance moves in other rooms. There are a lot of activities to do and a lot of rooms to discover here that you may even need a Marauder's Map of your own. Start now and explore what the hotel has to offer.
If you like this game, play Habbo Hotel by clicking here. Have fun!
Developer
Developed by Sulake Oy.
Release Date
August 24, 2020
Features
Mini games to play
Decoration and customization options
Daily tasks to complete
Online RPG game
Controls
Use your mouse to play.