Play Now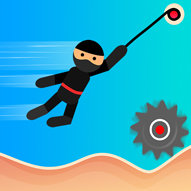 In Ragdoll Swing Game, get ready to test your hand-eye coordination as you try to complete multiple exciting levels by keeping your character alive! With its increasing difficulty, do you have what it takes to complete this game, or will your character's thrilling days come to an end?
Swinging with a rope can be a fun activity, but sometimes it can be dangerous! Stretch your muscles and get ready for some acrobatics! You need to be very careful to succeed in this game, as there are traps everywhere! Your objective in this thrilling adventure is to complete each level by reaching the end without getting your character killed. You can play the game with your mouse. Use your mouse to throw the rope and hold to swing with it. When you have enough momentum, release it, and grab the other one. Do not fall while jumping from one to another. Also be careful about the obstacles like sharp blades on your way, if you crash into them, you'll die and fall down. Just use your fast reflexes and hand-eye coordination to go on. You need to pass 40 levels to complete the whole game. In the oncoming levels, you can unlock different costume options to customize your look! Help your brave character to reach the finish bar without falling!
Do you trust your skills? If so, take the different challenges in our collection of free and online skill games by clicking here. Enjoy!
Developer
QKY Games Studio developed Ragdoll Swing
Release Date
September 28, 2020
Features
40 levels to complete
Colorful 2D graphics
Entertaining and exciting gameplay
different unlockable costumes
Controls
You can use your mouse to play.