Play Now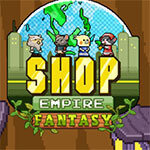 In Shop Empire Fantasy, build up your own mall and be the boss of your own business! Like everybody else, these cute little animals need some shops to buy their needs and have a fun time. As the boss of your mall, you should develop your business and provide all the necessary services that your customers demand. Let's see if you can handle this responsibility!
It can be a little difficult to manage a massive mall all on your own. Luckily, you have the opportunity to hire staff for all the problems you can encounter. To improve your business, you should purchase various booths, facilities, extra upgrades, and statistics. You can check your purchases from the left side of the game screen. Add new shops to serve different needs and don't forget to put the necessary facilities like restrooms. Like it happens to every big mall, there will be thieves coming to steal your earnings at night. Click on the tricky thieves and make them visible for security to catch them. You can check your achievements and special visitors from the bottom of the screen. As you progress in the game, you can add more floors and extend your business. Check the hired staff, visitors, and buildings from the top of the game screen. Good luck and have fun!
If you want to try another game similar to this one, then be sure to check Smeet by clicking here.
Developer
Little Giant World developed this game.
Features
2D colorful graphics
Auto-saving the progress
Various upgrades and constructions
Endless strategy adventure
Controls
You can use your mouse to play this game.