Snowball War: Space Shooter
Play Now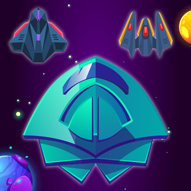 In Snowball War: Space Shooter, be ready to fight against giant snowballs! You are in space with your own spaceship and the gigantic snowballs are coming towards you! You just need to concentrate well to beat them! Will you able to protect yourself in this war game? Good luck!
Space is a very interesting place, there can be anything weird! This time, its snowing! Can you believe that? You dont have to, so lets jump in the game! You are moving along with your spaceship, and some gigantic snowballs are coming on you. Your objective in this game is to stay alive without exploding. To control your ship, you can use your mouse and left click to fire against the snowballs. They have numbers on them, as they are approaching you, the number is decreasing. So, you aim to shoot them when they are furthest from you. The score is depending on this, try to shoot bigger ones first. Be careful! If you cant shoot them when they are far, and they touch you, your ship gets damaged. But dont worry! You can repair it a few times. After repairing, a shield will appear around your ship. You cant be damaged when you have it. Are you ready for the war? Lets move around in space and get the highest score! Have fun!
If you want to play more shooting games, and try another one similar to Snowball War: Space Shooter, then be sure to check Space Blaze, too.
Developer
BestGamesFreePlay.com developed Snowball War: Space Shooter.
Release Date
January 5, 2021
Features
Shooting game
2D graphics
Space themed
No levels to pass
Controls
You can use your mouse to play this game.