Play Now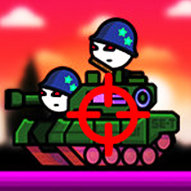 With Stick Tank Wars 2, get ready to make the explosive tank battle double competitive! With new backgrounds and competitors to put you more in the battle mood, start to earn coins with your every move. Upgrade your tank and weapon to set war against all the tank units of the area. Who will gain the highest points and the victory, the enemy forces or you? Start this breathtaking adventure to find it out now!
In this fun shooting game, you have to beat your opponents by using your aiming skills! All battles require eliminating your enemy, but this game is an opportunity for you to test yourself about targeting. All you need to do to win this battle is choosing your aim and keep clicking to get enough power to shoot the target. When you start the game, you will see 2 game mode options as easy and hard. Start with the easy mode to practice and as you process to be an expert, you can pass to hard mode. With each hit, you earn coins in the game. You can use your earnings to upgrade your tank and weapon from the in-game shop. Work hard and get the most powerful tank unit to eliminate all the enemy forces. If you are ready now, let the battle begin!
If you want to improve your aiming skills and become the best shooter of this game platform, be sure to check our collection of free and online action games.
Developer
kiz10 developed Stick Tank Wars 2.
Release Date
May 28, 2020
Features
4 tank upgrades to be unlocked
4 weapon upgrades to be unlocked
2 game mode options
In-game shop
Controls
You can play this game with your mouse.