Play Now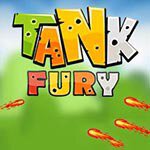 In Tank Fury, it is time for you to prove to everybody that you are the best commander of all times! Today you are going on a big war where the fires and punches never end. So, you gotta prepare yourself for a non-stop battle experience because there is no time to have a second thought in this game. Now, let's see if you can have the victory!
You had better be ready to challenge various players in this online platform and prove your war skills! In a huge battle area in which every one of the players shares the same utmost goal, and that is victory. In this fun action game, your objective is to destroy as many tanks as you can and increase your kills number. Before entering the field, first, you should create a username for yourself. Then click on the tank icon situated left corner of the game screen to choose your tank. You can make your preference according to the damage, fire rate, and speed stats of your machine. Use the left and right arrows or the "A" and "D" keys to move, right-click to fire, and left-click to punch. You will see blue portals in the game, which will allow you to change your location. Go there now, and give the hell out of your enemies!
To experience another tank battle experience as thrilling as this one, be sure to check Awesome Tanks by clicking here.
Developer
Red Eye Production developed this game.
Release Date
August 11, 2017
Features
2D colorful graphics
5 tank options to select
Several portals to travel
Opponents from all around the world
Controls
The left and right arrows or the "A" and "D" keys to move the tank. Left-click to fire and right-click to punch.