Play Now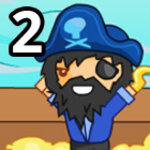 In Shore Siege 2, batten down the hatches because your enemies are after your coffers! Take your place by the deck, brandish your cutlass, and be prepared to defend your treasure from these persistent foes. Can you prove you have the best crew by repelling your enemies on each level? If so, then bring a spring upon'er and head to the nearest island to start your adventure!
Singing a chantey, your crew seems very happy with the latest loot. Your objective in this game is to visit different islands and complete all the levels in them by defeating your enemies before they get a chance to steal your treasure! You can play the game with your mouse, so head to the first island to begin. To protect your loot, you can place cannons both on your ship and on the ground. Don't forget to equip your men with guns too! All these can be bought with oil, and you start with a single oil tower on each level, but be sure to build more. You have some time to place all the essential items to prepare for the attack before your enemies start to arrive. Use this time wisely, and don't forget to collect as much oil as you can. Upgrade your defenses and protect your treasure!
Ahoy matey! Looking for more treasures? Look no further! Go and visit our collection of free and online adventure games by clicking here. Enjoy!
Developer
Armor Games developed Shore Siege 2.
Features
Different islands to visit
Multiple levels to complete
Intuitive controls
Colorful 2D graphics
Entertaining and addictive gameplay
Controls
You can use your mouse to play this game.