Play Now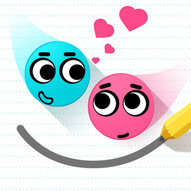 With Love Dots, have the honor of gathering these two lovers! Who said love is only for humans? Like animals and insects, balls, dots, and emojis can love each other too! This is a sacred drawing game in which you draw the faith of dot-looking characters. Push the limits of your creativity and find a way to gather them with your magical pencil. If you are ready, let the game begin!
This game is not about how beautiful you draw but how strategic you can get while drawing! In this fun drawing-themed puzzle game, your objective is to make a design in order to gather the two characters you see on the game screen. But you should watch out for how much you can use the pencil. Per level, you have a limited line length that you can draw. Check the limit from the top of the game screen. Click and drag your mouse in the direction to where you want to draw the line. Once you release the button, the line and the characters will move down. As you progress in the game, you will earn coins that you can use to unlock new skins. Do you trust yourself to do what it takes to gather the love birds? If so, let's lose no time and get it to work already!
Don't leave us now! If you liked this line drawing adventure, we have another one for you! Be sure to check Lines by clicking here.
Developer
BPTop developed Love Dots.
Release Date
February 11, 2021
Features
2D colorful graphics
Various challenging levels to pass
Dot-looking characters
Entertaining and addictive gameplay
Controls
You can use your mouse to play this game.