Play Now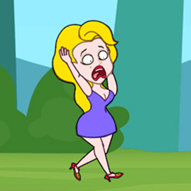 Save The Lady 2 is inviting you to a challenging strategy adventure in which you should find a way to solve the problems and save the beautiful lady! Featuring mini puzzles to be solved with a good strategy and different backstories changing each level, you will be really addicted to this fun game. Not only your intelligence but also your creativity plays a big role in avoiding all the obstacles. If you are ready, let's start. Shall we?
From back streets to creepy rooms full of myths and mysteries, there are several places to where this woman wants to go! You can find yourself in the middle of a pole and jump into a nice picnic in the woods just after that. We don't know if the troubles find this lady or everything happens because of her, but you will have too much on your plate! As her protector, your job is to make the correct decision to escape the danger. You need to pass 3 stages to complete a level. To avoid each danger, you should click on the correct option given at the bottom. If you make a mistake, you can restart the current level, from the first stage. But don't worry! Each mistake will teach you something very important. The least logical option, which you will never think of, can be the one that works best. Complete the levels and claim the rewards that will allow you to have tips or skip the stages. Get ready and start this adventure in no time now!
If you want to solve more circumstantial puzzles using strategies, then be sure to check Trollface Quest Horror 3.
Developer
YAD.Com developed this game.
Release Date
September 17, 2020
Features
2D colorful graphics
Several levels to complete
Rewards to claim
Fun and addictive gameplay
Controls
You can use your mouse to play this game.