Play Now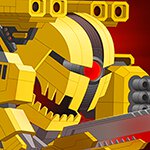 In Super Mechs, the aliens decided to attack your planet, and only you can stop them! They come with their high-tech robots and guns, but you've been expecting them. Take control of powerful and massive robots and show those extraterrestrials that they've picked the wrong planet to sack! Can you send them back to the depths of space by defeating them and save your planet?
Your people placed their trust in you to get them rid of the trouble the aliens are causing. The main objective of this game is to destroy each enemy you encounter by using different weapons on your war machine. You can play the game with your mouse, so click on the play button to start. You start with a simple robot but as you beat your enemies and level up, you'll unlock various upgrades to improve your power. The battles in this game are turn-based, so each side has to wait for others to complete their attack. At the top of the screen, you can see both your and your opponent's health bar. Each weapon you have have a different range and use, so try to position yourself accordingly before using them against your enemy. Can you pass all the levels and save your world from the enemy?
Do you enjoy playing with robots? If your answer is yes, then be sure to check our other fun and popular game, Big Evil Robots. Have fun playing!
Developer
Tactisoft Ltd. developed Super Mechs.
Release Date
October 2012
Features
You can build and upgrade your robot
Lots of levels to complete
Level up to unlock new upgrades
Turn based battle system
Controls
You can use your mouse to play this game.