Play Now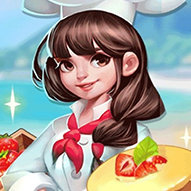 In Dream Chefs, Mr. Brown needs you to rebuild the food palace! As the best cook in town as well as the manager you can totally handle this mission, Winnie! Your dreams are coming true now, are you excited? Let's jump in the game and start the build and manage! Good luck!
Can you believe that you will be the manager and the chef cook of the fanciest restaurant in the town? You better believe it! There is no time to celebrate now, we need to get to work at the restaurant! Mr. Brown is waiting for you to reconstruct the restaurant! Are you ready for the renovation? Let's jump in the game! Your first objective is to change the bar counter, choose among 3 options, and move on to the kitchen. We need those tips to continue the construction! On the first day, you will have only one recipe to cook, just put the steaks on the pan, wait for them to cook, and pour the wine in the glasses. Your customer is really impatient, you need to hurry up! The more orders you make, the more tips you will get! Now, use this money to renew the floors, and continue to cook to get more tips. As you proceed with the game, the recipes will be added, and you will achieve to complete the renovation! Are you ready to manage your own business? Good luck and have fun!
If you want to play more food games, and try another one similar to Dream Chefs, then be sure to check Sushi Bar, too.
Developer
Yizhiyuan Network Technology Co., Ltd. developed Dream Chefs.
Release Date
January 12, 2021
Features
3D colorful graphics
3 levels to complete
Renovation game
Challenging gameplay
Controls
You can use your mouse to play this game.