Play Now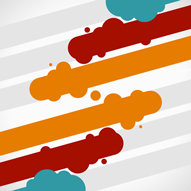 With Lines, there is no limit to color the screens! What is better than an easy win in 10 secs to clear the mind to chill out a bit? Lines allows you to encourage yourself to make better strategies and challenge the CPU opponents for hours of fun! Interiorize your color, determine the most strategic spots, and splash your screen with various colors now!
We wish we could say that the only thing you need is your mouse, but we can't because the most important thing you need is your strategic thinking skills. The objective of the game is to splash your color through the lines to dominate the other colors. The one with the biggest rate wins the level. But it may not be that easy as it sounds. Being farsighted plays a critical role in this game because you should be able to foresee in which direction and how fast your color can go after you determine the spots. As you will see in the tutorial, you should click on a spot or spots (based on the level) to determine the start points of splashing. As you progress in the game, new game modes will be unlocked, and you will face many other challenges as the knife mode, in which you cut the lines instead of clicking on a point.
Be sure to check our collection of free and online skill games by clicking here to browse more fun titles like this game.
Developer
Gamious developed this game.
Release Date
January 22, 2021
Features
3D colorful graphics
Several challenging levels
Different game modes
Entertaining and addictive gameplay
Controls
You can use your mouse to play this game.