Play Now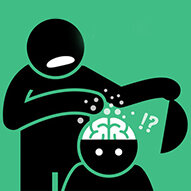 Brain Wash is here to burn your brain more than can ever be! If you can solve all these puzzles and prove that you are intelligent... Well, you can complete the sentence since you are that smart. Joking! But only real geniuses can solve the puzzles and finish the game. If you are up for this challenge, let's see what you have got!
How much do you trust your intellect and creativity? To be honest, there is no need to have a good amount of general knowledge or being quite brilliant to solve these puzzles. What you need to have is open-minded creativity and a little bit of patience. Your finger or mouse would work to play this fun puzzle game. The reason why we call this game Brain Wash is that the puzzles don't determine any kind of intelligence but how silly you can go to pass the levels. You should try all the ways to reach the result and prove you are capable of using your imagination. Because these mini puzzles aren't brilliant either! But this is the fun part, isn't it? You can use hints if you get stuck and dunno what to do. But we suggest you push the limits and do whatever it takes to find the answer. If you are ready, let the game begin!
Be sure to check our collection of free and online puzzle games by clicking here to browse more fun and brainwashing titles like this game.
Developer
YAD.Com developed this game.
Release Date
December 22, 2020
Features
2D colorful graphics
Dozens of levels to complete
Creativity required puzzle game
Fun and engaging gameplay
Controls
You can use your mouse or finger to play this game.