Play Now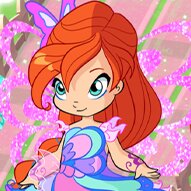 Meet the Winx Girls once more in their baby years and run marathons with them with Winx Club Baby Adventure! Master the running course, collect shiny gems, and avoid obstacles! Retry until you break new records, unlock all the girls, upgrade booster powers and stats, and complete surprise achievements by discovering new features with your favorite baby fairies!
Ready, set, fly! Keep your wings warm and ready for this curious running track because this is not your usual marathon run! Start with Layla as a fly-runner, speed up slowly, and change lines to collect all the gems while avoiding the cute hopping sheep speeding at you! You might fail quickly on your first tries, but no worries, you will be able to unlock boosters with time! Explore the natural beauty of the fairyland, collect the crystals, and get used to the increasing pace. Your character takes turns automatically without changing lanes, so you can just focus on the sheep and collectibles. You can use your gems to unlock all the Winx Girls and unlock and upgrade all boosters to break new records easier! Meet all girls and reach the farthest corners of the magical lands with their wings!
If you like the fantastic adventures of the Winx girls, you can check out Winx Club Spot the Differences and discover their memories through photos!
Developer
Rainbow S.p.A. developed Winx Club Baby Adventure.
Release Date
July 14, 2022
Features
Cute baby Winx girls!
Fun for all ages
Unlockable characters
Upgrades and boosters
Surprise achievements
Available on mobile devices
Controls
You can use your mouse to play this game.