Dora and Friends Mermaid Treasure
Play Now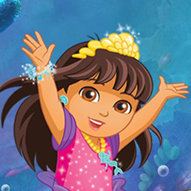 In Dora and Friends Mermaid Treasure, Dora and her friends on the beach and they want to clean the beach up! Also, they need to find their stolen gold and coins and take them back. Let's see if you can help them to clean the beach or not! When you are ready, click the play button at the bottom right!
People left the beach dirty again, so today is the cleaning up day on the beach! Dora and her friends need your help with cleaning! To clean up, you need to click three times to the sand mountains. They can also find buried things to recycle under the sand mountains like bottles, cans, newspapers, milk jars, and juice boxes. When you find them, throw them in the recycling bag! But you can also find sea creatures under the sand, leave them where they should be. Apart from that, Dora aims to find their gold, too. When you see a coin under the sand, take it! Also, there are some turtles walking around, take the gold from their shell, and throw them in the gold bag! After the cleaning, they see turtles stole their gold and go deep into the sea! To take the golds back, they need the mermaid's help! So, they go deep into the sea, pass by the octopus guard, and reach the treasure! Are you ready for the adventure? If your answer is yes, help them to clean the beach and find their gold items!
If you liked Dora's mermaid treasure adventure, to check our collection of free and online adventure games click here!
Features
Colorful 2D graphics
Adventurous kids gameplay
Several tasks to complete
Language improving game
Controls
You can use your mouse to play.