Play Now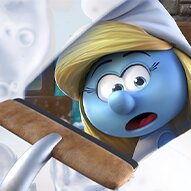 Rebuild and stylize the Smurf Village with Smurfs Village Cleaning! Jokey went out of the line with his latest joke and blew up the whole town. Now the Smurfs have nowhere to stay, eat, or sleep. They need a hand rebuilding their home, and you are more than welcome to help them!
Get ready for a detailed rebuilding operation of the Smurfs' town and a step-by-step cleaning simulation! The village gets completely wrecked after Jokey surprises everyone with wicked presents. Now it is up to you to clean up their houses, fix broken objects and furniture, and clean them. You will use a sponge, sprayer, wiper, and a beater to clean up objects and ready them for use again. You can upgrade these instruments with time to work faster and more efficiently. Move your cleaning materials around objects to cover them with soap and rinse them. Use the beater to get rid of the dust, and wipe away the dirty water with the wiper to reveal the furniture. Bring broken pieces together and use nails and a hammer to fasten them up. Build and design your house to your heart's desire and join the Smurfs!
If you like the stories of Smurfs, you can check out The Smurfs: Ocean Cleanup and help our little blue friends save the ocean!
Developer
Azerion developed Smurfs Village Cleaning.
Release Date
May 2022
Features
Famous Smurfs characters
Family-friendly
Satisfying animations
Fun puzzles
Unlockable content
Available on mobile devices
Controls
You can use your mouse to play this game.