Winx Club Spot the Differences
Play Now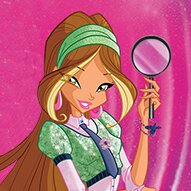 Join the Winx fairies in mysterious puzzles with Winx Club Spot the Differences! Observe beautiful images of Winx Girls' memories in magical lands and dive into their adventures! Discover their hidden journeys, picnic holidays, and casual school days through joyful photos, and enjoy the puzzles filled with true friendship!
Welcome to your first day in the Magic Dimension; we have quests for you. The fairies of our school are in unrest because of a mystery. Some mischief-maker has apparently bewitched photos to change them, and now someone must undo this dirty trick. The students of magic are too busy due to the incoming exams, so we need your help with that. You must compare two versions of the same photo and find the changed details. Each successfully revealed difference returns to you as score points, while random clicks on images cost you twenty points. Find all differences without clicking on anywhere else to reach the maximum level score and complete the stage with three hearts. You can also use hints when you cannot seem to find anything new. Click on the bulb to be directed to the next spot. You can wait for this feature's cooldown to reuse it. Good luck!
If you like the magical adventures of Winx Girls, you can check out Winx Club: Love and Pet and solve matching puzzles to find lost pets!
Developer
Rainbow S.p.A. developed Winx Club Spot the Differences.
Release Date
June 30, 2022
Features
Fun photos of the Winx Club team
Improving puzzle-solving and attention skills
Available hints
Family-friendly
Available on mobile devices
Controls
You can use your mouse to play this game.