Play Now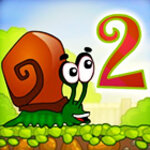 In Snail Bob 2, our favorite and slow character is in a rush. It's his grandpa's birthday, and he has a great gift for him. The only problem is that the elderly snail lives very far from our protagonist's house, and the road is filled with obstacles and dangerous enemies. Join the determined snail, and help him overcome all the challenges on his way to the party.
Birthday parties are one of the most entertaining events, and Snail Bob doesn't want to miss his grandfather's party. He packed his gift and ready to go. The objective of this game is to complete each level by solving puzzles to clear the way for your character. You can play the game with your mouse, so click on the play button on the main menu to start. The game features 20 different levels that you can play, but you have to unlock them first. On each level, you should press buttons and pull levers. Sometimes you have to make Bob stop before you clear the way from dangers. Click on him so he can rest in his shell until you tell him otherwise, by clicking on him again. You complete a level when Bob reaches to the end of the level safely. Good luck, and don't be late to the party!
If you've enjoyed this game, then be sure to check the previous and the first title in this popular series, Snail Bob 1, by clicking here. Have fun playing!
Developer
Snail Bob 2 was developed by Andrey Kovalishin.
Release Date
June 2011
Features
Entertaining soundtrack
20 different levels to complete
Different puzzles in each level
Nice graphics
Intuitive controls
Controls
Use your left mouse button to play.