Play Now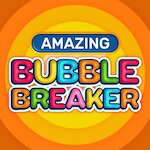 In Amazing Bubble Breaker, it's time to pop colorful bubbles! Playing with these delicate orbs are fun. Normally people try to keep them intact, but in this game, your objective is completely opposite. Are you ready to dive into the colorful world of this game and clear the board?
Expect to be surrounded by so many bubbles and colors! Your objective in this game is to clear as many bubbles from the board as you can to earn a high score. You can play this game with your mouse. On the main menu, click on the new game button to start playing. If you want, you can click on the paint palette icon in the bottom right corner to change the theme of your bubbles, and customize the look further. To remove the bubbles, you should click on the ones in groups of 2 or more. The bigger the cluster the bigger the points you'll get. You should think before you pop bubbles, as it's best to gather as many of the same bubbles together as you can. Try to leave very few or no bubbles in the end. The game ends when you're left with individual bubbles. Good luck and have fun!
If you enjoy flexing your brain muscles, then go ahead and check our collection page of online puzzle games.
Developer
Amazing Hedgehog developed Amazing Bubble Breaker.
Release Date
March 22, 2019
Features
Colorful 2D graphics
Intuitive controls
Addictive and entertaining gameplay
Different bubble themes to choose from
3 different difficulty settings
Controls
You can play this game with your mouse.