Play Now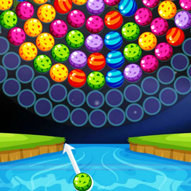 With Bubble Shooter Wheel, you will forget all the bubble shooter games you have played so far! This time, you need to shoot the bubble on a wheel that is turning all the time! Will you able to shoot all the bubbles as quickly as you can? Let's play and see!
Colorful bubbles are very fun to play with, they are shiny and delicious! But this bubble shooter game is different than the other you have played so far. In this game, your goal is to pop all the bubbles as soon as possible to gain a high score. In order to start the game, click on the play button on the main menu. There will be a board that is full of bubbles like all the bubble shooter games To finish the game, there shouldn't be any bubbles left on the wheel. At the left bottom of the screen, you will see the number of bubbles that you will pop. You can also see the stars you gain. Try to be quick! As time passes, the number of stars you will earn is decreasing. You can use your mouse to play the game. Target the cannon with your mouse and click on the screen to shoot when you're ready. By hitting a cluster of 3 or more identical colored bubbles, you can remove them from the turning wheel board. Have fun!
If you want to play more bubble shooter games, and try another one similar to Bubble Shooter Wheel, then be sure to check Bubble Shooter Extreme, too.
Developer
Lof Games developed Bubble Shooter Wheel.
Release Date
January 14, 2021
Features
2D graphics
Entertaining colorful gameplay
No levels to pass
Intuitive gameplay
Controls
You can use your mouse to play this game.