Play Now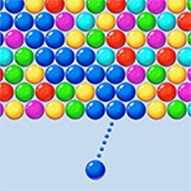 Bubble Shooter Arcade takes the challenge from zero to a hundred in a few seconds! Join this breathtaking infinite run and lose yourself in the countdown before every new level! Try to keep up with the pace of the incoming bubbles and keep your cool against this unforgiving bubble shooter and its vivid colors!
There is no end to this run once you have started, so buckle up your seatbelts, and let the party begin! This challenge will not give you a second to wipe your sweat, so complete any unfinished business before stepping into this addictive adventure of colors. Every successful shot in this world returns to you in points, but the amount varies. The angle of the shot determines the score you get, and you can calculate it by looking below at the chart. Move the cursor left and right, aim with the help of the vector, and shoot before the new wave comes! The bubble you shoot and the crowd you shoot at must be the same color unless you got the lucky ball. These colorful boost balls can adapt to any color and help you get rid of extra crowds that keep piling before you. Keep track of your best scores and race to pass them!
If you like bubble shooting games, you can check out Spooky Bubble Shooter and dive into an exciting challenge with the spirit of the spooky season!
Developer
Softgames-Azerion developed Bubble Shooter Arcade.
Release Date
April 2022
Features
Arcade theme
Endless gameplay
Easy controls
Bright colors
Controls
You can use your mouse to play this game.