Play Now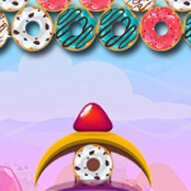 In Donut Shooter, it's time to pop some colorful donuts! We won't shoot bubbles this time, instead, we have delicious treats! Just to warn you before we start, it would be great if you could take something sweet with you, this game might make you hungry! If you are ready to pop some donuts, let's jump into the game! Have fun!
Shoot all the donuts, just like a bubble shooter! It's a fun game where you have to match all the matching donuts and pop them before they pass over the line. The sweetness of this game is determined by your performance, therefore match them as near as possible. In this entertaining game, your goal is to shoot the same type of donut clusters as the arrow-connected donut. You can use your mouse to aim, hold to aim and then release to shoot. To pop them, you'll need at least three of the same donuts! You'll gain different power-ups as you progress through the game, such as exchanging donuts, bombs, and magical coins to destroy several targets at once! You should make enough shots with one of them to be able to use it again. From the bottom of the screen, you can keep track of the following donuts as well as your score. Have fun!
Do you want to play more games like this one? If so, take the different challenges in our collection of free and online bubble shooter games.
Developer
Wanted 5 Games B.V. developed Donut Shooter.
Release Date
June 23, 2021
Features
2D colorful graphics
A sweet theme to enjoy
Endless bubble shooting experience
Fun and addictive gameplay
Controls
You can use your mouse or finger to play this game.