Play Now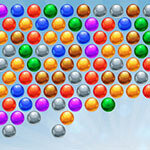 In Bubble Shooter Extreme, get ready to pop some bubbles because they're everywhere. You can't allow these colorful and delicate orbs to overrun the board, so grab your mouse and start popping them one by one. How many bubbles can you clear from the board?
Bubbles float, bounce, and they offer fun for people who play with them. But the ones in this game could get out of control if left unchecked. Your objective is not very different from the other titles under the same genre. You try to clear as many bubbles from the board as you can. You can play the game with your mouse. At the bottom of the screen, you can see an arrow. Move your cursor around the screen to change the aim, and click to throw a bubble. In the bottom left corner, you'll see the next bubble you'll throw, and a number of moves you have until a row of bubbles descend to the bottom. With each move you make which doesn't result in removing bubbles, you'll lose a move. To remove bubbles, you should group 3 or more of the same-colored bubbles together. You lose the game when the bubbles reach the bottom. Aim well and remove as many bubbles as you can.
After you finish playing this game, be sure to check our other popular title, Bubble Wheel. Enjoy!
Developer
CMC Online developed Bubble Shooter Extreme.
Release Date
January 24, 2018
Features
Colorful 2D graphics
Entertaining and addictive gameplay
Simple controls
Lots of different colored bubbles to pop
Controls
You can play the game with your mouse.