Play Now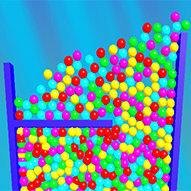 With Candy Burst, get ready to burst the candies! It is time to have some sweet treats, don't you think? Never ever forget that there is no such thing as too many candies. The more sweets, the better the day goes! That is why we are planning to drown you in these candy pools. What is better is that you are the one who decides the amount! Let's see now if you'll manage to fill the box!
You won't believe what a colorful world you are diving into by playing this fun puzzle game! Featuring an endless source of colorful candies and many challenging levels, you will not be able to leave your screen for hours of fun! All you need is your mouse and enough amount of focus to finish this adventure. Click on the play button, select the level and start filling the boxes until the mark. Once the candy amount reaches the predetermined mark, the clock will be activated. After waiting for few seconds, you will pass the level unless the candies start falling down or get below the mark. You have 3 candies that you can sacrifice. Check the left side of the screen to see have many chances left to sacrifice. You can buy new skins for your candies as you progress. So, if you are ready, let the game begin!
If you want to try another game as sweet as this one, then be sure to check Merge Cakes.
Developer
bestgames.com developed this game.
Release Date
January 13, 2021
Features
3D colorful graphics
93 mini levels to complete
Various skin options to unlock from the in-game shop
Entertaining and addictive gameplay
Controls
You can use your mouse to play this game.