Play Now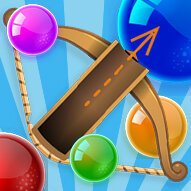 Bubbles Shooter invites you to test your hand and eye coordination skills in the most fun way possible! Popping the bubbles has been never this exciting before! With its challenging levels and rules, this game will make you addicted to this adventure. Get your fingers ready and let's see how many scores you can make with your spear now!
Like any other versions, the rules are pretty much the same in this fun bubble shooter game. Except for it is much more fun and exciting! The bubbles are colorful as always but can be difficult to pop. In the middle of your spare, you can see your bubble and its color. Your objective is to hit the bubble clusters with the same color as yours. But they have to be at least 3 of the same bubbles including yours to pop them. If you shot on another color or there isn't enough bubble to be popped, you lose one life. You can see your lives at the left bottom of the game screen. If they are all used up, new bubble clusters will appear on the board. You can check the following bubble from the left side of your spear. As you proceed in the game, you'll have more variety of colors to clear! If you are ready, let the game begin!
Don't forget to check our collection of online and free bubble shooter games to have fun and add more excitement to your day!
Developer
Agame developed this game.
Release Date
April 24, 2017
Features
2D colorful graphics
Several levels to complete
Many bubbles to shoot
Fun and engaging gameplay
Controls
You can use your mouse to play this game.