Play Now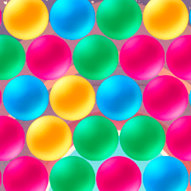 Get ready to enter the colorful world of Arkadium Bubble Shooter and pop some bubbles! It's impossible not to like bubble shooter games. So, we bring all the fun to you and let you enjoy this game for people of all ages. Are you ready to pop those beautiful balloons that form a colorful cluster?
It's time to play with colored balloons and enjoy a wonderful version of the classic bubble shooter game! Even if you're a beginner, this game is easy to pick up. All you need to do is, use your mouse to aim and shoot the colorful balls. You have to hit a group of two or more balloons to remove them from the board. Your goal is to clear the board of all balloons to move on to the next level. You only have a limited number of moves in each level so you have to be quick. But the good thing is that you get 20 more moves in each level. You'll also get to shoot power-up bubbles along the way which will make it easier for you to clear the board. There are also power-ups in the cluster. Try to bounce balloons of the walls to hit them. Let's begin now and see if your aim is well enough to complete all the levels in this game.
If you enjoyed this game, play Bubble Shooter Extreme to try more games similar to this one.
Developer
Developed by Arkadium.
Release Date
Jul 23, 2020.
Features
Different levels to complete
Colorful bubbles to pop
Fun and addictive gameplay
Intuitive controls
Controls
Use your mouse to play this game.