Play Now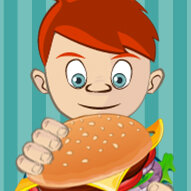 In Beach Burger, it's time to run your own business at the beach! Turn on the grill, get the fresh ingredients, and start taking orders! Serve your hungry customers the best burger ever! Will you able to complete your daily mission? Let's jump into the game and see if you can! Good luck!
Your customers are waiting for you to serve them and their number increases day by day! You have too many jobs to do! Let's get to work! Take a look at your recipes and start to cook! Your objective in this game is to prepare the orders of your customers correctly and earn money. Be careful! If you serve them the wrong dish, they may get angry! Prepare the dish they want according to the recipes. Don't upset too many customers or you will lose the game! You will see their orders at the top of their heads. As you prepare the orders correctly, the customers will give you money. You should click on the money to take and achieve your goal. At the left bottom of the screen, you will see the ingredients you need, you can click on them to use. If you make a mistake, you can click on the X button to restart preparing the burger. You are racing against the time in this game! Good luck and have fun!
If you want to cook more burgers, and try another food game similar to Beach Burger, then be sure to check Burger Chef Restaurant, too.
Developer
jogosonlineapps.com.br developed Beach Burger.
Release Date
December 17, 2019
Features
2D graphics
Challenging gameplay
Different recipes to unlock
Entertaining gameplay
Controls
You can use your mouse to play this game.