Play Now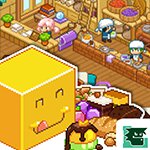 In Happy Dessert, get ready to run your very first cake shop! We all know that sweets are a girl's best friends. And our brave girl wants to change her career path. She plans on managing her own cake shop. But owning a cake shop isn't that easy. Do you think you can lend a helping hand to her?
It's another great day in Collesium and a competition is being held. We are about to find out who Mister Kingdom Winner is! What? The strong and shy farmer? Boo! Obviously, the announcer has made a mistake! The winner was supposed to be the cheerful merchant. Announcing the wrong winner in front of the king will surely have some consequences. Yikes! Now that her career is destroyed, she has to find a new job to make a living. Your objective is to help her run her own cake shop. At the bottom of the screen, you can see different menus. Use them to upgrade your shop, make new recipes, and decorate your shop. First things first. You have to buy a scavenger team to collect ingredients. Now that you have your ingredients, it's time to bake cakes. You know you can't please every customer and their desires are endless. So, find new recipes to unlock at the bottom of the screen. Hire staff and a chef to cook yummy cakes and you're ready to go. Be sure to upgrade your scavenger team and staff to get famous. Find new recipes and prepare the orders on time to get better tips.
If you like playing games like this one, check our collection of online and free strategy games. Enjoy!
Developer
Developed by LittleGiantWorld.
Release Date
October, 2017.
Features
Achievements to unlock
Nice graphics
Different decoration options
Recipes to make
Controls
Use your mouse to play.