Play Now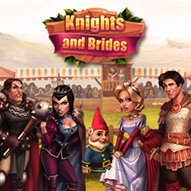 In Knights and Brides, you should manage your own estate and become the most powerful! Choose your character and start the journey! Depending on your choice the adventure that you will live changes! So, you can take a mate from the other players online and share or you can play solo and enjoy your spoils all by yourself! If you are ready, choose your character and start the adventure!
Knights and Brides is an online strategy game where you become a knight or a princess. When you choose to be a princess, you need to manage your resources. The Pilot is letting you know his sensations and Aunt Mary is helping you with the tasks by giving clues. If you choose to be a knight, The Pilot helps you again in the forest. And Uncle Bill gives you some clues and advice while you duel other players or move on your way! You can play the game with your mouse, click the objects to use. When you complete the tasks as being a princess or knight, you win coins or stars! Make sure you complete the tasks according to the advice! If you are ready, start the game and enjoy in this world of fantasy!
If you want to try another strategy game similar to this one, then be sure to check Battle Pirates, too. Have fun playing!
Developer
VIZOR APPS LTD developed Knights and Brides.
Release Date
May 27, 2019
Features
3D colorful graphics
Fantasy world
Multiplayer game
Different characters to choose
Controls
You can use your mouse to play.