Play Now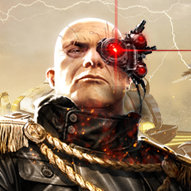 In Battle Pirates, The Earth is covered in dark water. Order is a distant memory. You need to customize your ship, join your allies, and become the Captain you were destined to be! If you are ready, start the game and face other pirates in battles!
In this exciting strategy game, you should build an island fortress, customize deadly ships, and rule the high seas! Power up your defenses, upgrade your weapons, choose your crew, build, and battle. Your first mission is to build a location for your fleet and pirates to stage from. You need to be prepared to repel attacks as well as to launch the ships. Build up your fleet and set sail to terrorize the seas with over 12 types of customizable ships like Pegasus, Cloudbreaker Everest, Inferno Dragon, The Hyperion, and many others! You will face off against other pirates in battles for turf, money, and honor. Challenge other players around the world in the open sea and fleet-to-fleet naval battles. You need to begin collecting resources to start upgrading your weapons. There are three basic types of weapons. As you level up, you will get stronger versions of these weapons as well as unlock access to new powerful weapon types, like Unmanned Aerial Vehicles and Torpedos. Are you ready to become the battle pirate you have always dreamed of? Then battle for the top spot on the leaderboard!
If you liked Battle Pirates, to check our collection of free and online strategy games click here!
Developer
KIXEYE developed Battle Pirates.
Release Date
May 2, 2011
Features
Different types of ships to choose
Alliances with players from all over the world
Challenging gameplay
3D graphics
Controls
You can use your mouse to play.