Play Now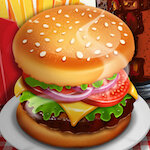 In Burger Chef Restaurant, residents are lining up at the door to taste the delicious burgers you prepare. We're sure the rumors of your fast hands also gained you a reputation, but that won't fill the empty stomachs of your hungry customers. So head into the kitchen, and start taking orders!
Burgers are easy to make and delicious to eat. As one of the best fast food choices, it's a great idea to open up a shop in this bustling corner of the city. Your objective in the game is to complete each day by reaching the target money amount by preparing the orders of your customers. You can play the game with your mouse, so click on the play button on the main menu to start. Next, pick a world to play in. There are 3 options, but only one of them is available in the beginning. Select a game mode from below and hit the play button. Your customers will arrive at the counter one by one. You can see their order on the right side of the screen. Prepare it by using the ingredients at the bottom of the screen, but pay attention to the order of them. Stack them correctly and grab the tips! Good luck!
For more games similar to this one, be sure to check our collection of free food games by clicking here. Have fun!
Developer
Vseigru.net developed Burger Chef Restaurant.
Release Date
January 16, 2019
Features
Colorful 2D graphics
18 different ingredients to use
Intuitive controls
Entertaining and addictive gameplay
3 different worlds to play in
3 different game modes
Controls
You can play this game with your mouse.