Meowfia Evolution Endless
Play Now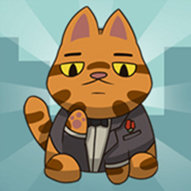 Meowfia Evolution Endless invites you to the streets to take care of cats and earn money with them. Many cats have to live in the back alleys, but what happens if you watch over and evolve them to become the owner of the streets? Let's see!
What a curious paper bag... Your objective in this game is to earn as much money as you can by creating and combining cats! You can play the game with your mouse, so get ready for strategic clicking! You start the game with a single paper bag. First, click on it and free the cat from it. This little kitten will poop, and you'll earn coins from it. Weird, but it works! You can see the bag meter at the top of the screen. When it fills, a new paper bag will spawn. By dragging two of the same cats to each other and combining them, you'll create a higher tier one! You can feed your cats a fish, and this will make them poop faster. With the coins you earn, you can upgrade 5 different stats from the menu and buy cats from the in-game shop. Can you unlock the ultimate feline, Godpurrer? Have fun playing!
While this gang of cats rules the streets, why not join a more domestic one in our other popular game, Party Cat next? Enjoy!
Developer
MarketJS developed Meowfia Evolution Endless.
Release Date
October 19, 2018
Features
Colorful 2D graphics
10 different cat types to create
5 different stats you can upgrade
Intuitive controls
Entertaining and addictive gameplay
Controls
You can use your mouse to play this game.