Play Now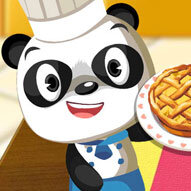 Dr. Panda Restaurant is inviting you to help him today! Dr. Panda is launching his restaurant this time! Since he was successful in all the jobs he tried, he now decided to run a restaurant! But he needs your support? Can you give him the help that he needs today? Have fun!
Running a restaurant is not an easy job, but our panda can overcome this as he did all the other jobs! This restaurant is for animals and they are lining up at your door! You need to serve them together with Dr. Panda! Start with welcoming the customers. Then, by clicking on them, place them in the seats. To place an order, just click on them. Each consumer has a specific need. Depending on the order, you'll need to take different actions to prepare it. They may want to eat pizza, ice cream, and maybe a smoothie, just be sure that you are fast enough to please them! Serve it to the animals and clear up the dishes after you're finished. Recycling is something you should keep in mind. To help keep the environment safe, you should definitely recycle the garbage. Click on the garbage and place it in the appropriate container based on its form. Are you excited to help Dr. Panda in the restaurant today? Have fun!
If you liked Dr. Panda Restaurant, to check our collection of free and online food games, click here!
Developer
Dr. Panda LTD developed Dr. Panda Restaurant.
Release Date
March 23, 2021
Features
Animal involving
Different dishes to prepare
Fun and addictive gameplay
Colorful 2D graphics
Controls
You can use your mouse to play this game.