Play Now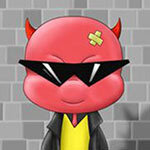 In Bubble Trouble, the otherwise fun and bouncy bubbles are posing a threat to you. You better prepare yourself to face these round fiends. Grab your harpoon and destroy these bubbles to pass each level. How long do you think you can stand a chance against these bouncy foes?
Featuring both solo and a 2-player game mode, it's time to end this threat in this game. You can pick the game mode you'd like to play from the main menu. In the solo gameplay mode, your objective is to destroy each bubble before you run out of time or lives. The big bubbles will break into small pieces when get hit. Try your best to avoid touching those, as this will remove a life point from you. You can track your remaining time, life points, and score from the bottom of the screen. Once destroyed, some bubbles may drop power-ups. These can range from extra time to different harpoon types. Try your best to complete each level as fast as you can. Once you finish a level, the remainder of your time will be added to your final score. Enjoy!
For more fun and challenging games like this, be sure to check our collection of free and online action games by clicking here. Have fun playing.
Developer
Kresimir Cvitanovic developed this game.
Features
Colorful 2D graphics
Intuitive controls
2-player game option
Entertaining and addictive gameplay
Multiple levels to complete
Controls
As the player 1, use the left and the right arrow keys to move around. Press the SPACE BAR to use your weapon. Use the A and the D keys to move around and the Q key to shoot as the player 2.