Bubble Game 3: Christmas Edition
Play Now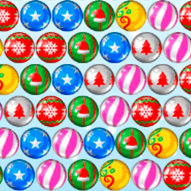 In Bubble Game 3: Christmas Edition, Christmas is here, and it's time to celebrate! Wear your fuzzy socks, grab your hot chocolate, and get ready for an addictive and fun challenge! How many points do you think you can collect in this festive game?
Bubble shooter games are great for relaxing, and this one is Christmas-themed! Your objective is simple and similar to the other titles under this genre. All you have to do is to pop as many bubbles as you can to earn a high score. You can play this game with your mouse, so let's start! When you begin, you'll see colorful bubbles on the screen. At the bottom, you can see your pointer and the bubbles you're going to use in a row. Use your mouse to aim and click on the screen to shoot a bubble. To remove bubbles from the screen, you should group three or more of the same ones together. With each try not resulting in removing bubbles, you'll lose a chance and can track these from the bottom of the screen. Running out of chances will make the bubbles on the screen descend few rows to the bottom. If a bubble touches the bottom, you'll lose the game. Enjoy!
Don't stop there! Go and try our other wildly popular and entertaining game Bubble Wheel, by clicking here. Have fun playing!
Developer
Agame developed Bubble Game 3: Christmas Edition.
Release Date
November 30, 2020
Features
Colorful 2D graphics
Entertaining and addictive gameplay
Intuitive controls
Christmas theme
Controls
You can use your mouse to play this game.