Play Now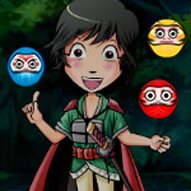 In Bubble Warrior, open the gates of the magical kingdom and unleash your power. The kingdom is under attack. Do you know who the big, bad enemy is? It's the bubbles! Mind you, these are not like the bubbles you have seen before. They attack in great numbers and do not plan on stopping any time soon! Do you think you can destroy them all before it's too late?
When an army of bubbles come to attack your kingdom, you have to do whatever it takes to stop them. Lucky for you, we found a way to get rid of them all. You need to kill them with their own weapon. Let them have a taste of their own medicine and your kingdom will be safe once more. The gameplay is similar to other bubble-shooter games. You need to match together three of the same bubbles to get rid of them. To complete each level, you need to reach the key. You can't match the key with any of the bubbles, but you can destroy all the bubbles around it. When you reach the key, you don't need to destroy any of the other bubbles. Keep an eye on the timer at the top left corner of the screen. Finish each level before the timer ends to earn bonus points. Have fun playing!
These bubbles might be dangerous, but there are other bubbles in distant lands that are actually quite cute. Play Pop Pop Kitties and unleash all the cuteness! Enjoy!
Developer
Lof Games developed Bubble Warriors.
Release Date
June 10, 2021
Features
Nice 2D graphics
Special boosters to get
Many levels to complete
Fun and addictive gameplay
Controls
You can use your mouse to play this game.