Play Now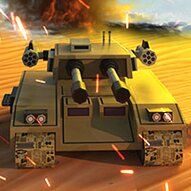 In Call of Tanks, you are about to go to a hot war! Your enemies have established a base on your grounds in order to claim everything you own. Now you must use every ounce of strength you have. It's time to take out some enemies! Are you ready to prove that you've never lost a game? Good luck!
To defeat your opponent, you must deploy tanks on the battlefield. The key to winning the fight is to deploy the correct units in the right order. We'll be ready if you are! This is going to be a blast! At each level, your goal is to destroy the enemy's base until it is completely destroyed. Your units are listed at the bottom of the screen. To use them, hold down the left mouse button. Use the arrow keys to navigate the map. To win, you'll need to devise a smart plan and put together effective unit combinations. As you defeat your enemies, you will earn money. You can use the cash to purchase new units. Continue on and don't let your opponents get close to your base. You receive metal when you complete a mission. You may use the metal to improve your tanks, defenses, and bases. Have fun and good luck!
If you liked Call of Tanks, to check our collection of free and online action games, click here!
Developer
BeedoGames developed Call of Tanks.
Release Date
June 21, 2021
Features
Tanks, defenses, and bases to upgrade
Colorful 3D graphics
Intuitive controls
Fun and addictive gameplay
Controls
You can use the arrow keys to control the map. Right-click to change the angle. Left-click to deploy units.