Play Now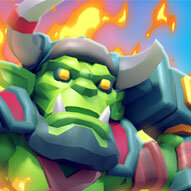 In Endless Siege, it's time to defend your kingdom from these filthy little orcses. The orcs of Isengard are coming to take all you hold dear. Orcs wearing the white hand of Saruman. Kidding! But these orcs are no less threatening than the uruk-hais. Are you ready to build towers as tall as possible to protect your kingdom?
Orcs, orcs everywhere! Get ready to defend your kingdom or succumb to the darkness. If you are ready, play the "Lord of the Rings" theme and start the fight. Your objective is simple. You need to build towers in the empty slots to protect your land. The towers appear at the bottom of the screen. Click on the first one, choose an empty place and click on it. When you are ready, click on the next wave button. When you press the button, you'll earn coins. You'll also earn coins when you kill the orcs. These coins can be spent on buying new and better towers. You can also upgrade them to stand a better chance against their attacks. Click on the next wave button as many times as you can, build many towers with different capabilities, and earn a high score. You can play this game faster by clicking on the button on the bottom right corner of the screen. Keep playing every day to see different maps. Have fun!
Did you enjoy this game? Then you should check out Slime Rush TD by clicking here. Enjoy!
Developer
RavalMatic developed Endless Siege.
Release Date
March 23, 2021
Features
Fun and addictive gameplay
New towers to build
Intuitive controls
New map every day
Controls
You can use your mouse to play this game.