Play Now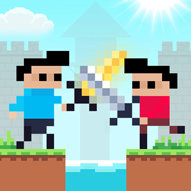 In Castel Wars, the destiny of your kingdom is all in your hands now! Are you ready to fight for all you have? There is gonna be only one true survivor before everything ends and that must be you but no one else. This is a war that you face with your best friend or should we say your best enemy now? If you are ready, let's find out!
This is a story of the last one standing. When it comes to survival and the most important, your honor, even the best friends can turn into sworn enemies. But should it stop you from fighting for your life? Of course not! Because even they will be blinded with the ambition for victory! In this two-player fun action game, your objective is to defeat your opponent at the cost of your life! You have two game mode options to choose. You can either prefer to fight with your opponent one-to-one or compete with them on collecting more points by eliminating the green soldiers. Either way, you can choose to fight or to run to stay alive. But running is for cowards! Defense your castle and try to destroy the opponent's castle by using the catapult. A mysterious hero will drop some weapons and boosters like an extra life. You can select the difficulty level for the second game mode and also the revival time before starting the war. May the best warrior wins!
If you want to try another two-player action game as thrilling as this one, then be sure to check Stick Duel Medieval Wars.
Developer
RHM Interactive developed this game.
Release Date
January 12, 2021
Features
2D pixelated colorful graphics
2 game modes to choose
Two-player action game
Fun and engaging
Controls
Blue Player: "W,A,S,D and E". Red Player: "ARROW KEYS and P"