Play Now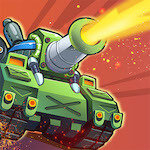 In Clash of Tanks, get ready to send your war machines against the enemy in online multiplayer gameplay. The ground will shake beneath your tanks and your enemies will tremble as your forces approach their base. Do you have what it takes to defeat your opponents in this fast-paced game?
War is never easy but a talented commander can win every scenario. Your objective int his game is to use your tanks against your enemy. You can play the game with your mouse. To start the game, give yourself a name and click on the start battle button. On the left side of the screen, you'll see your base. On the right side, your enemy is located. From the bar at the bottom of the screen, click and drag different tanks to your side, and watch them attack your enemy. Each tank requires a certain amount of energy to be used, and you can check it from the bottom of the screen. You win the game when you destroy all of the buildings of your enemy, but lose when yours get destroyed. You can upgrade your tanks with the money you earn through gameplay. Good luck!
For more games like this, be sure to check our collection of free action games. Enjoy!
Developer
Beedo Games developed Clash of Tanks.
Release Date
May 9, 2019
Features
Colorful 2D graphics
Intuitive controls
Entertaining gameplay
Different tank units to use against your enemy
Controls
You can use your mouse to play the game.