Play Now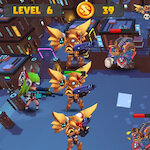 In Guardians vs Zombies, the undead rose from their graves and started an assault on you. Muster your units, and be prepared to fight back against the waves of zombies. Can you defeat all of them and protect your base?
None can stop this enemy other than you, so you better be ready! Your objective in this game is to complete each level by defeating all of your enemies. You can play the game with your mouse. When you start, click on a level on the map to begin the battle. The zombies will enter the screen from the right side. At the bottom of the screen, you can see your available units. Click on one of them and drag them to the slots on the screen. You shouldn't leave any open gaps, so try to place at least one unit on each line to prevent your enemies from breaching your defenses. As you complete levels, you'll unlock more units. Each one costs coins to be placed, and you earn these as you defeat enemies. Keep your guard up, think strategically, and emerge victorious from the battle! Good luck!
Keep your adrenaline up as you play the titles in our collection of online action games. Have fun playing!
Developer
JulGames developed Guardians vs Zombies.
Release Date
April 5, 2019
Features
10 different achievements to earn
Colorful 3D graphics
Multiple levels to complete
Intuitive controls
Entertaining gameplay
10 different zombie types
8 different unit types
Controls
You can use your mouse to play this game.