Play Now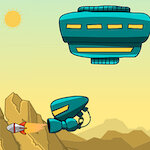 In Tower Defense Alien War, you're all that stands between aliens and your people. The alien invasion has begun and so far, you're on the losing side. But that's about to change now that you're on the battlefield. Vengeance is yours now, hero. Let the hunt begin!
The world is changing and new threats are emerging. The aliens are one of them. They want to take control of this world and wipe out humanity. It's your objective to prevent the robot invasion and destroy them to bring peace to your world. So, take your position and get your weapons ready. We're going to purge this land of the shadow. The controls are pretty simple and you need to click on the left mouse button to shoot. Aim carefully and get rid of them one by one. The game difficulty increases along the course of the game and you'll start to face robots with more powerful weapons. To defeat them, you need to kill your enemies and collect the golds they leave behind to buy upgrades with them. You'll also unlock new weapons and be able to create a rain of missiles. You need to destroy your enemies before they destroy the wall you're standing on. If it crumbles to the ground, the game's over. You can see how much life you have left in the top left corner of the screen. Are you ready to put an end to these evil robots?
If you want to play games that are similar to this one, check our collection of online and free strategy games to browse more titles. Have fun!
Release Date
December, 2018.
Features
Multiple levels to complete
Nice graphics
Intuitive controls
Upgrades to buy
Controls
Use your mouse to aim and left click to shoot.