Play Now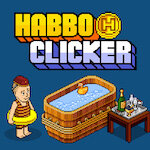 In Habbo Clicker, take the role of a hotel manager, and do your best to build the best hotel in the world! Your customers are looking for a nice experience, so you better provide everything they need for a relaxing stay. Building and expanding a hotel empire is just a few clicks away!
Every success story starts with a humble beginning, and your journey starts in a single room. Your objective in this game is to expand your hotel as big as you can, and earn so much money! You can play the game with your mouse, so let's start now! In the beginning, you'll start with a single room with few items in it. These items are the key to your success, as each generates income periodically. You can use the money you earn from the objects to improve them, buy new ones, or even unlock new rooms. You can check the progress of each item by looking at the bar on top of them. When this bar fills up, you'll earn money. At first, the pace and the amount of your income will be slow. To improve these stats, you should upgrade your items. Upgrading an item speed to level 5 will make it collect money on its own! Good luck!
For more games likes this, be sure to check our category of online and free strategy games. Have fun!
Developer
Habbo Clicker was developed by Habbo.
Release Date
February 2019
Features
Colorful graphics
Entertaining gameplay
Intuitive controls
Different suits to unlock
Controls
You can use your mouse to play this game.