Play Now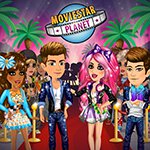 In Movie Star Planet, get ready to see your face decorating the covers of the popular tabloids because you're about to get famous! Paparazzi, the latest fashion, influential friends, and more are waiting for you in the glamorous world of this game. Are you ready to take your place among the stars?
In this resplendent world, you don't have to settle with only 15 minutes of fame. A life of luxury is waiting for you! If you can't wait to make your dreams of stardom to become real, let's begin climbing the stairs of fame! Your objective in this game is to become the most famous person in the world. First, you should create your character. You won't have many options in the beginning, but you'll unlock many nice items later. To earn coin and fame points, you should take part in different activities. Get to know other celebrities, make friends, and maybe enemies! You can visit 5 different locations in the city. Play games with others in the theme park, go and buy new things from the mall, socialize with other players, get a pet, and more! Enjoy!
Many different ways lead to stardom. Rock social media with your selfies in our popular game, Instagirls Dress Up. Have fun!
Developer
Movie Star Planet Studios developed this game.
Release Date
August 18, 2011
Features
Can become famous
Can earn levels
Exclusive items to get
Beautiful world to play in
Controls
Use your mouse to play this game.