Play Now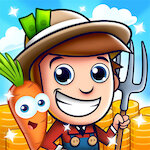 In Idle Farm, you can experience what it feels like to grow produce and earn profit from it. Wear your boots, put on your straw hat, and grab your tools. Time to get some dirt under those fingernails, because a farm won't thrive without hard-working people!
The ones who say that money doesn't grow on trees probably have never met a successful farmer like you! In this game, you're the owner of a farm with many fertile plots. Your objective is to plant crops, raise livestock, and earn profits by selling your produce. You start small in the beginning, but with enough work, you can become the biggest farm in the town. You'll start with carrots, and these will help you to earn enough money to hire help and upgrade your plot. Hiring help will make things easy for you as they'll work tirelessly. You can assign different roles to your employees from collecting crops to watering them and packaging the products to sell them on the market. As you sell produce and earn experience points, you will level up and unlock more profitable crops and livestock. Besides new crops, you can also unlock new plots to plant better crops as you level up!
If you'd like to play more games similar to this one, then be sure to check our collection of free and online strategy games by clicking here. Have fun playing!
Features
Colorful 2D graphics
Easy controls
Different crops to grow
Can hire helpers
Controls
Use your mouse to play this game